Featured News - Current News - Archived News - News Categories
A Night To Remember
Mon, Dec 11th 2017 01:55 pm
The 37th annual Friends of Father Baker Reception was held on Friday, November 10th at the Hyatt Regency Buffalo. Hosted by Maryalice Demler, news anchor at WGRZ-TV Channel 2, the event featured a presentation of the Father Baker Service to Youth Awards, which are awarded annually to those who exemplify the values and dedication of Venerable Nelson Baker.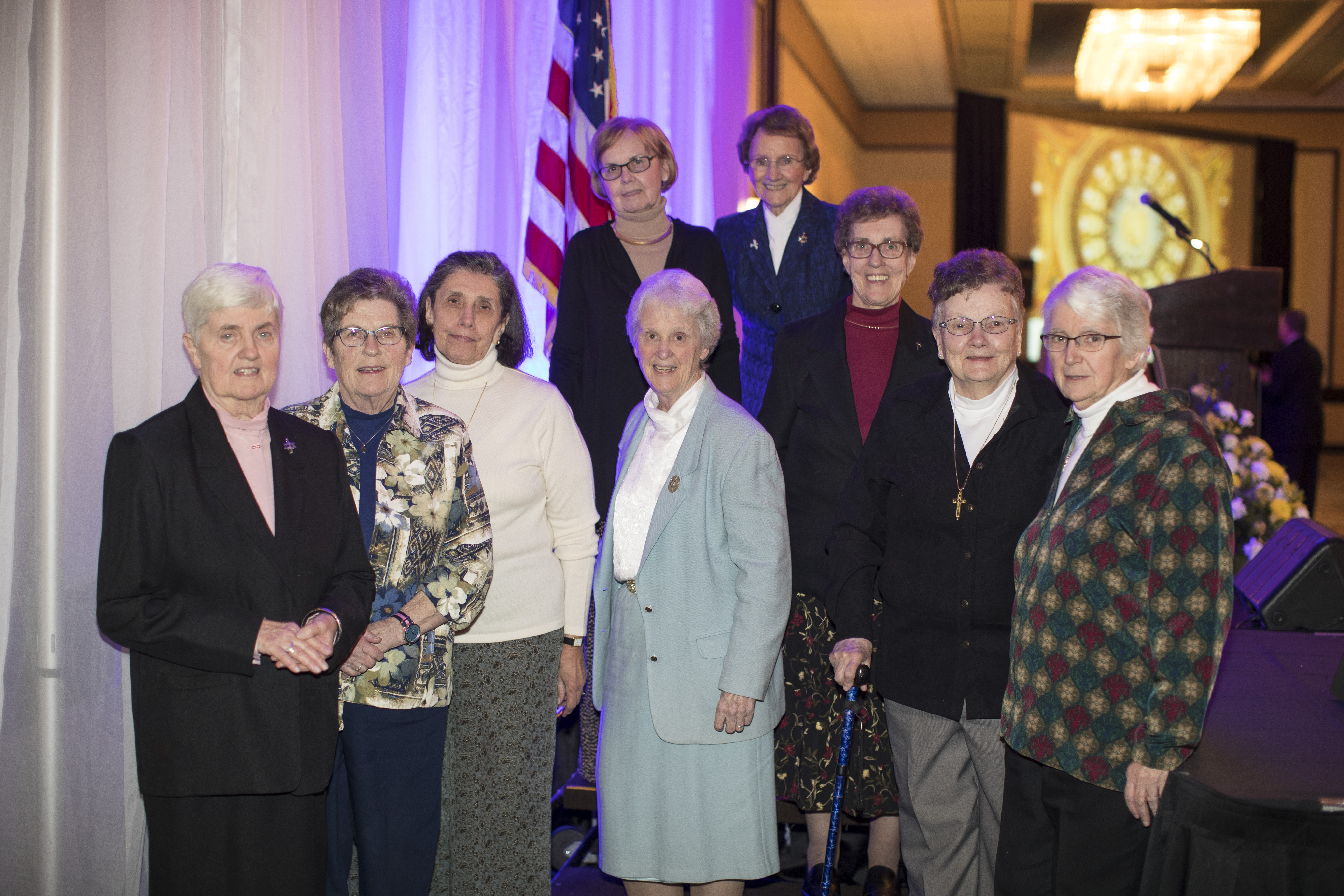 The Service to Youth Award was presented to the Sisters of Saint Joseph. The Sisters arrived in Buffalo at Bishop John Timon's request. Shortly after, the Sisters took charge of the St. Joseph's Orphan Asylum at Limestone Hill and caring for wayward and destitute youth in St. John's Protectory. Upon his arrival in 1876, Father Nelson Baker discovered he shared the same dedication and concern for the poorest and most vulnerable as the Sisters did. Father Baker and the Sisters were of one heart. While Father Baker was the architect, builder, and administrator of the Institutions, the Sisters were the backbone of the organization. The impact of the Sisters of St. Joseph yesterday and today remains strong at Our Lady of Victory and their legacy of caring continues.
The Youth Service Award was presented to Rebecca Sullivan - a freshman at Villanova University School of Business. While at the Buffalo Academy of the Sacred Heart, Rebecca completed over 250 hours of community service with a number of charities - including Monkey See, Monkey Do Children's Bookstore, Saints Peter and Paul Church and Elementary School, and the BISON Children's Scholarship Fund. During her years at Sacred Heart, Rebecca participated in the school's Leadership Camp, Random Acts of Kindness Club and was a member of both the swim and mock trial teams. Not only was she a part of numerous groups, Rebecca founded the SHArks Bite Cancer Club to raise awareness and funds for cancer prevention and research.
We celebrate the achievements of the Sisters of Saint Joseph and Rebecca. Thank you to all for making the evening a night to remember.