Abandoned, scared and lonely… that's how little Harry felt.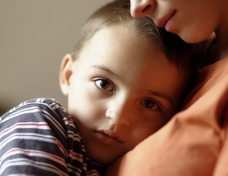 Harry's biological mother and grandmother were both addicted to drugs. One day, while living with his grandmother, she overdosed and died right in front of him! Traumatized, he felt sadness about the loss, anger about her bad decisions, and hopeless without anyone he could trust.
Harry was then sent to live with an aunt and uncle. Shortly after the two divorced, his aunt wanted nothing to do with the young boy. He was neglected and even made to sleep on a couch outside on the porch in all types of weather. Can you imagine having to sleep in the cold and rain?
Learning of the situation, Child Protective Services removed Harry from his aunt's home and brought him to our campus, to our Emergency Foster Care Program. Arriving at the residence, he was frightened, hurting and lonely. A short time into his stay, he asked our staff members several heart-breaking questions: "Why doesn't anyone love me?" "Will anyone ever love me?"
But, as the days wore on, Harry began to feel safe again. Through months of intensive counseling, he spent a lot of time sharing his feelings and discussing the trauma he had suffered. His attitude changed and he started to trust adults again.
The best part? Recently, he was placed with one of our foster families who have provide him with the best gifts a child could ever receive – those of peace, love and stability.